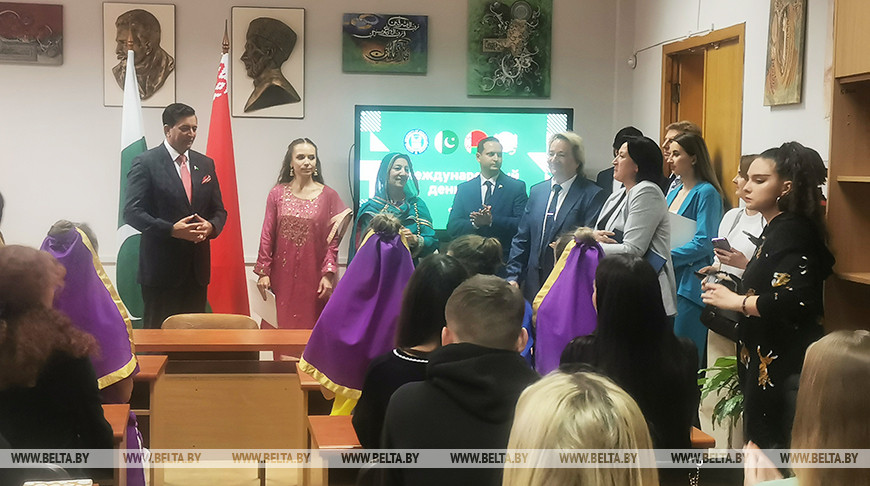 Pakistani Language and Culture Center opens at Minsk State Linguistic University
The Pakistani Language and Culture Center has opened at Minsk State Linguistic University (MSLU), BelTA reports.
The opening ceremony was attended by Ambassador Extraordinary and Plenipotentiary of the Islamic Republic of Pakistan to the Republic of Belarus Sajjad Haider Khan. "Relations between Pakistan and Belarus are actively developing across the board, including in the fields of education and culture. The opening ceremony was scheduled for this day for a reason; 9 November is the birthday of Pakistani poet, Dr. Muhammad Iqbal. In addition to that, 9 November is World Urdu Day. I keep saying that cooperation is key to understanding countries and cultures. I believe that such events and the opening of this center will help students of the linguistic university get to know Pakistan better. In 2-3 years they will graduate, and some of them will leave for other countries. It is very important that they build a good, not stereotypical, understanding of Pakistan, its traditions and culture," the ambassador said.
He thanked the university administration for their assistance in opening this center. "We tried to enrich our exhibition with works of famous Pakistani authors, photographers and artists who have achieved worldwide recognition. This will help visitors connect to and build a visual image of Pakistan. I would also like to thank the National University of Modern Languages in Islamabad for donating souvenirs and books for the exposition. We hope that the university will launch a two-year Urdu language course. I am sure that annual celebration of World Urdu Day will become a good tradition," Sajjad Haider Khan said.
MSLU Rector Natalya Lapteva noted that the university established contacts with Pakistan in 2015. "We signed a memorandum of cooperation with the university in Islamabad. A decision was made to open language and culture centers in both universities. Belarusian and Russian language centers are already functioning in Islamabad, Pakistani students have the opportunity to study not only our language, but also learn more about our culture. By opening the Pakistani Language and Culture Center, we are taking a big step forward in studying the Urdu language, exploring the culture of the country that is becoming an important partner for Belarus. One of the tasks of our university is to train specialists who can facilitate communication and promote cooperation," the rector stated.
The opening ceremony was followed by a concert dedicated to World Urdu Day in the assembly hall of Minsk State Linguistic University.